Halal Pizza: Are you ready to learn all about halal pizza? Well, you're in the right spot. Before we can jump into the ins and outs of halal pizza, we start with the basics.
What is Halal?
Halal is an Arabic word that means permissible or lawful. When it comes to food, Halal refers to ingredients and practices that adhere to Islamic law. For a food to be certified Halal, it must meet certain requirements:
It does not contain any pork or pork by-products. This includes bacon, ham, pepperoni, sausage and lard.
It does not contain any alcohol or intoxicants.
It is not prepared using equipment that previously handled pork or non-Halal meats.
Animal products like meat and dairy must come from Halal slaughtered sources.
Non-animal products like fruits, vegetables, nuts, spices are generally intrinsically Halal but must not be contaminated with anything prohibited.
In addition, the food must be prepared following Islamic guidelines including reciting tasmiya or a prayer before slaughter, and draining all blood from meat completely.
Food that complies with these conditions is considered permissible for Muslims to eat.
Why Halal Certification Matters
For restaurants and food producers, Halal certification is essential for serving the needs of Muslim consumers. It provides assurance that products and practices have been vetted to meet Halal standards. Certification is provided by reputable third party organizations like:
Islamic Food and Nutrition Council of America (IFANCA)
Islamic Services of America (ISA)
Crescent Foods
These organizations audit facilities for compliance with Halal protocols. Certification also requires that facilities maintain segregation between Halal and non-Halal ingredients and production lines to prevent cross-contamination.
Businesses that earn Halal certification can display credence for Muslim diners to recognize. This also opens up export opportunities to the $2 trillion worldwide Halal food market.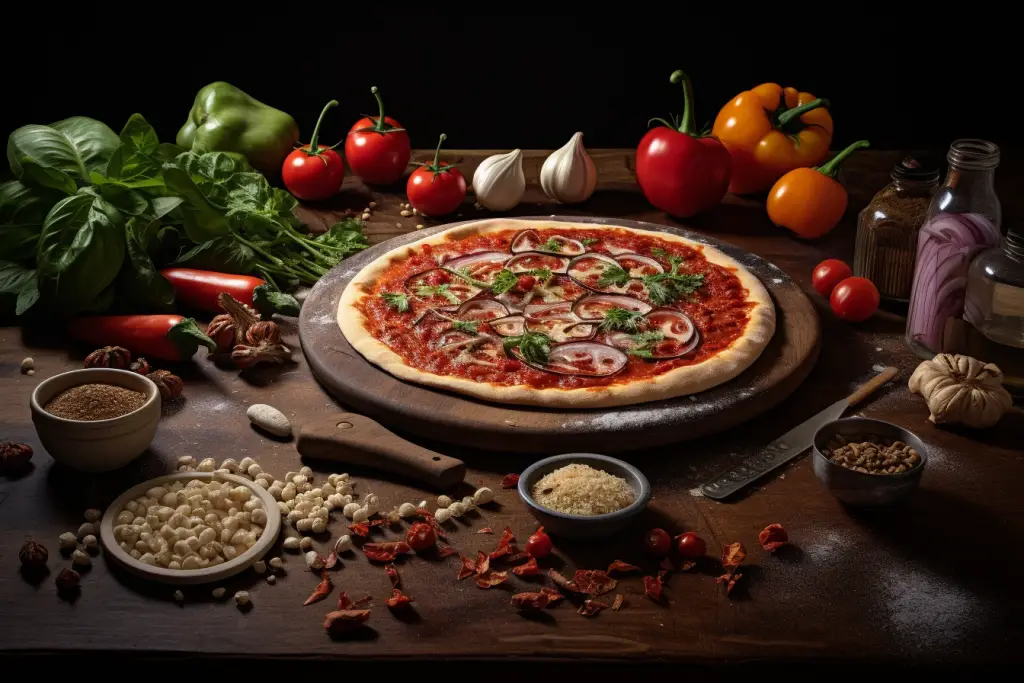 What Makes Pizza Halal?
For pizza to be Halal certified, it must meet all the standard requirements outlined above. Here are some key considerations:
Halal Pizza Dough
The dough must be made without alcohol-based yeast. Acceptable yeasts include apple cider vinegar and non-alcoholic fermented wheat starch.
Halal Pizza Sauce
Tomato sauce must not contain pork products like bacon or prosciutto. It also cannot contain wine or spirits.
Halal Pizza Cheese
The cheese must come from Halal slaughtered animals and not contain rennet derived from pork. Vegetarian cheese is also acceptable.
Halal Pizza Meats
Any pepperoni, sausage, chicken or other meat must come from a Halal slaughtered source. Of course, pork products are prohibited.
Halal Pizza Toppings
Veggie toppings are intrinsically Halal. Olives and other fruits must not contain non-Halal additives.
Halal Pizza Oven
The oven used cannot have been previously used to cook pork or Haram meat unless thoroughly cleaned afterward.
These requirements ensure no forbidden ingredients touch Halal pizza at any point from production to consumption.
Finding Halal Pizza Restaurants
Thanks to growing demand, Halal pizza is increasingly available. Here are some tips for finding certified Halal pizza near you:
Check restaurant certification – Many national chains like Pizza Hut, Dominos, and Papa John's offer Halal options. Verify they have been properly certified.
Look for credence – Restaurants will display credence like Halal Food Certified stickers. This credence should come from reputable certifiers.
Ask about ingredients – Even without certification, some local pizzerias offer Halal ingredients. Inquire about their dough, cheese, meat etc.
Search Muslim directories – Resources like Zabihah collate certified Halal restaurants including for pizza.
Request contactless delivery – Cross-contamination can occur if delivery drivers handle non-Halal food. Opt for contactless delivery when possible.
Call ahead for large orders – Give adequate notice for large Halal orders to ensure ingredients are in stock and no mix-ups occur.
As the Muslim population grows, more restaurants understand the need for Halal fare. If your area lacks options, request Halal pizza to demonstrate demand.
Must-Have Ingredients for Halal Pizza
If you want to make Halal pizza at home, stock these essential ingredients:
Halal Flour – Choose unbleached, non-bromated flour. Organic is ideal to avoid pesticides in the wheat.
Halal Yeast – Opt for yeast made without fermentation aids like soybean alcohols. Fleischmann's and Red Star make compliant active dry yeast.
Halal Cheese – Kraft, Cabot, and Sargento have Halal-certified cheese options including mozzarella.
Halal Meat – Seek pepperoni, sausage, chicken or beef certified Halal. No pork products.
Halal Vegetable Oil – For brushing crusts, use Halal-sourced vegetable oil free of animal products.
Canned Tomatoes – Crushed or sauce tomatoes are a base for Halal pizza sauce. Ensure no alcohol or bacon has been added.
Veggie Toppings – Mushrooms, onions, peppers and other veggies are Halal-friendly if prepared properly.
Having these certified ingredients on hand makes whipping up Halal pizza easy. You control exactly what goes into the pie.
Homemade Halal Pizza Recipe
Once you have the right ingredients, it's simple to make mouthwatering Halal pizza yourself. Try this delicious recipe:
Halal Pizza Dough Recipe:
3 cups Halal flour
1 packet Halal active dry yeast
1 tbsp Halal sugar
1 tsp salt
1 1⁄4 cup warm water
2 tbsp Halal olive oil
Instructions:
Combine the yeast, sugar and warm water in a mixer bowl. Allow to sit for 5 minutes until frothy.
Add in the flour, salt and olive oil. Using a dough hook, mix on low speed for 2 minutes.
Once combined, knead the dough on medium speed for 5-7 minutes until smooth and elastic.
Cover and allow to rise until doubled in size, about 1 hour.
Punch down and portion into 2 balls. Cover and let rise another 30 minutes.
Halal Pizza Sauce Recipe:
1 15oz can Halal crushed tomatoes
2 cloves garlic, minced
1 tsp oregano
1 tsp basil
1 tbsp Halal olive oil
Salt and pepper to taste
Instructions:
In a saucepan, heat the olive oil over medium heat. Sauté the garlic for 1 minute until fragrant.
Add in the crushed tomatoes along with oregano, basil, salt and pepper.
Allow to simmer for 10 minutes, then remove from heat.
Now roll out the dough and get ready to top! Here are some Halal topping ideas:
Halal mozzarella and cheddar cheese
Halal pepperoni
Sliced Halal chicken sausage
Halal ground beef
Mushrooms, peppers, onions, olives
Fresh cilantro, basil or mint
Follow your pizza dough recipe instructions for baking. Then slice up your homemade Halal pizza and enjoy! Add your favorite Halal toppings to customize.
Tips for Perfect Halal Pizza
Here are some useful tips for achieving pizza perfection the Halal way:
Opt for halal yeast to avoid alcohol introduced during fermentation. Or make dough the traditional way by allowing it to naturally ferment overnight.
Grill or pan fry vegetables and meats before topping pizza to intensify flavors.
Hand toss dough for a thin, crispy crust or use a rolling pin for a thicker crust.
Preheat pizza stone or steel to crisp the bottom of the crust nicely.
Limit watery toppings like tomatoes and pineapple that can make crust soggy.
Sprinkle cornmeal or semolina on pans and peels to easily slide pizzas in and out of the oven.
Drizzle garlic-infused olive oil around the edges of the crust when it comes out of the oven for extra flavor.
Allow at least an inch between toppings to prevent a soggy center.
With quality halal ingredients and attention to technique, you can make restaurant-worthy pizza at home the halal way. Experiment with global halal flavors like tandoori chicken or toum garlic sauce.
Halal Pizza Around the World
Pizza is enjoyed globally, including by Muslim communities. Here's how some regions put a halal spin on the classic dish:
Halal Pizza in Turkey
Lahmacun is a Turkish halal pizza variant with a drier, thinner crust topped with spiced minced meat, onions, and peppers.
Halal Pizza in Indonesia
Indonesia's halal pizza often incorporates flavors like sweet soy sauce, chili paste, and seafood like shrimp and tuna.
Halal Pizza in India
Indian halal pizzas may use chicken tikka, paneer, or veggies like okra and eggplant for toppings. The crust is sometimes stuffed with spiced potatoes.
Halal Pizza in Middle East
Manakish is a Levantine halal pizza made with za'atar seasoning on fluffy dough and ground lamb is a popular topping.
Halal Pizza in Malaysia
Malaysian halal pizza offers unique flavors like satay sauce, pickled ginger, and salted egg yolk sauce.
These global versions show the versatility of halal pizza. You can take inspiration from them to give your homemade pies an international twist.
Troubleshooting Halal Pizza Problems
Like any new recipe, it may take some trial and error to perfect your halal pizza. Here are some common issues and fixes:
Dough Not Rising
Ensure yeast is fresh and activated in warm water. Allow it to fully ferment by doubling in size before baking.
Crust Too Dense
Add a bit more yeast and allow it to proof longer next time to develop air pockets. Ensure you knead thoroughly.
Crust Burns
Use a lower rack position, lower temperature, or convection setting. Watch crust closely as it bakes.
Toppings Falling Off
Par-bake the crust first before adding toppings so it firms up. Don't overstuff toppings.
Not Crispy
Use a pizza stone to crisp up the bottom. Cook at highest oven temp and finish under broiler if needed.
Too Greasy
Blot excess oil from meats and veggies before topping. Use cheese and sauce sparingly.
With a few adjustments, you'll have the halal pizza of your dreams. The fresh homemade taste is well worth the effort.
Benefits of Halal Pizza
Beyond accommodating religious needs, halal pizza has benefits for all:
Oven-fresh taste – Homemade halal pizza beats takeout for flavor and texture.
Customizable – Make pizza just how your family likes it with preferred toppings.
Bonding activity – Pizza night is family fun. Kids can get involved stretching the dough.
Healthier options – Load up nutrition with veggie toppings instead of greasy mystery meats.
Food safety – You control exactly what ingredients are used when making your own.
Budget friendly – Homemade pizza is far cheaper than takeout or delivery.
Final Bite
Going the halal pizza route guarantees a delicious pie you feel good about eating. Pizza by its very nature brings people together across cultures. Halal pizza makes this comfort food more accessible while opening minds.